Secure Decentralized Data Reconciliation & Validation
ADEPTTM (ACORD Data Exchange Platform & Translator) is a platform for real-time data exchange, translation, and transformation. It links trading partners, and provides data structure, validation, and reconciliation. ADEPT provides a next-generation market capability to increase the timeliness, accuracy, and security of your data.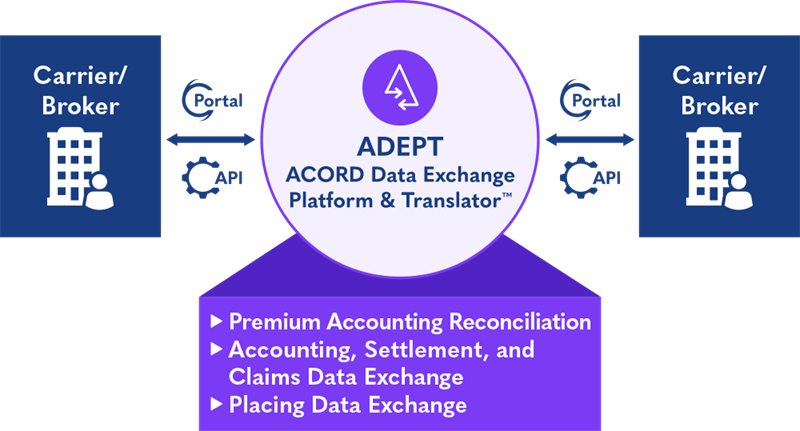 ADEPT is also optimizable and expandable through interfacing with a variety of value-add functional applications. ASG is continually developing focused applications for various business processes and transaction types, enabling clients to leverage ADEPT across the insurance value chain. We are also working with vendors and other partners who are interested in building value-added solutions around the ADEPT platform.
WHAT ADEPT DOES
Provide secure, decentralized data validation for placements, submissions, policies, accounting & claims
Process, match, and reconcile discrepancies efficiently using structured data access
Provide "single source of truth" for accurate, real-time transaction verification
How ADEPT Provides Value
Create efficiency savings through process optimization
Enable effective, secure information comparison and validation across the insurance value chain
Improve compliance and reduce errors/fraud compared to manual administrative processes
GETTING STARTED IS EASY -

LET'S TALK